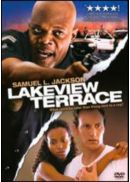 Received this movie this past Friday from my Blockbuster movie rentals and I was really looking forward to seeing it. I thought it was an interesting story, a new couple move in next door to a Cop from LA that seems to be on the edge.
The movie started out promising portraying Samuel L. Jackson as a veteran cop trying to raise his two kids. Soon a young couple move in next door and Mr. Jackson does not approve of their "lifestyle."  He starts making comments and then asserts himself in to their lives. Tensions build, along with the famous California wildfires in the background – don't know why that was in there.  As the fires get closer – the tensions build but soon the story line becomes predictable with a dramatic ending. 
Too bad – I really like Master Windoo, umh, I mean Samuel L. Jackson. 
I give this one 2 out 5 Gs.
Betoman.