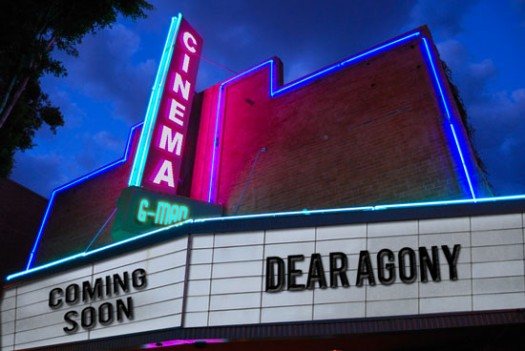 I had some "creative juices" flowing so I decided to work on my Photoshop skills.
I'm on vacation this week but will be back to premiere my movie short on Saturday Sept 20, 2012 to the crew and cast.
Got a wild hair since I shouldn't work on my short film anymore…:-(
You know how it goes, you keep messing with your project and before you know it, it's something that it's not. So my buddy Jim told me to "push away from the computer" and don't mess with it even though I'm a week early on completing it. As the famous Alfred Hitchcock would say, "A movie is never finished, just abandoned."
So, since I can't work on it anymore, I had all of these pent up creative juices in me so I decided to come up with some sort of announcement that I would be premiering the short film next weekend and then posting it online.
I thought the greatest  venue would be to see my short film on a movie marquee.
So I scoured the internet looking for some empty movie marquee movie signs. I found a couple but this one I liked the best. About two hours later in in Photoshop I came up with something. I used some other blank marquee backgrounds to replace the original text (Photoshop's content aware was not up to the task) and I even added some "dirt" too. I then "painted over" the original neon signage and created my own.
Above is what I came up with and below is the original image.
Once I premiere my short film – I'll repost this image on my blog and replace "SPECIAL SHOWING" with "ONLINE."
I'm happy with the final product. Thanks for letting me share.
Beto