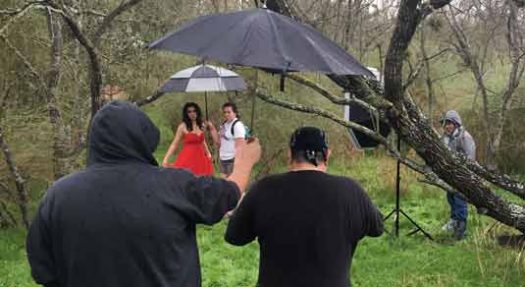 Did a photo shoot this past weekend with my friend Charito. Bummer was that it started to drizzle right before our shoot but Charito and I had this planned for a while so we decided to push forward.
Glad I did – we got some great unexpected results.
And I'm lucky to have my Familia Crew out there with me – Mike is family too. They were a big help from hauling gear, moving lights, holding umbrellas and taking behind the scenes (BTS) photos as well. And Charito (model) was a trooper as well.
Below you will find a Before and After photo, A photo Gallery and video too!
It was cloudy and drizzly but with my gear I was able to darken the background and then augment the light with some flashes. You can see how we backlit the drizzle in the photos – that was so unexpected but awesome. You can use the sliders to see the Before and After.
BTS gallery below – click on images for a larger view.
And of course we shot some video too. Joaquin used my Sony A6500 and I added some cinematic color grading, letterbox bars and some music.
Thanks for letting me share.
Gilberto