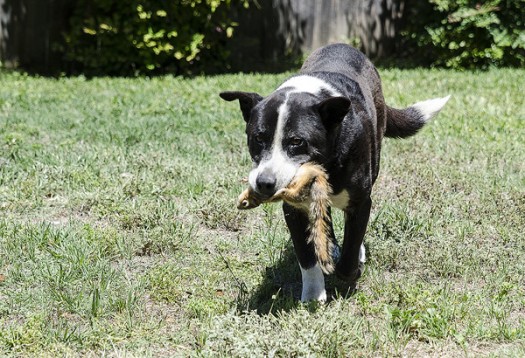 My son and I were going outside to patch up a hole in our fence when Joaquin asked, "What's that Max has in his mouth?"
Liz was outside and didn't even notice what Max had done.
As I've said before, our dog Max (Maximus – formal name) takes his job very seriously in "his" backyard. There are always pesky squirrels that tease him. They figure because he's going on 13 years that, "He's too slow to catch us, we'll wag our tails at him from the top of the fence and go down to the yard when he's sleeping – he won't get us."
Guess again.
We laughed as we saw Max walking around with the dead squirrel in his mouth, Liz not so much. Let me see if I get the sound right…
"Ewwwwwwwwwwwwwwwwwwwwwww!" was Liz and Emmy's reaction.
I'll have to update his Kill Board again.
Running out of space.
Below are some pics – another close up and the crime scene.
Beto
PS – My Mom would've said, "Es muy Bravo el Max." 🙂