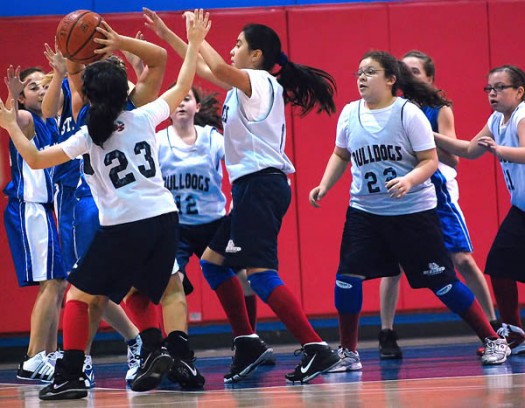 Wow…what a tournament this weekend. My little girl's school B basketball team played in their first Basketball Tournament of the season. They won 4th place but it was such an intense game. Our girls were scrappers.
Our Lady Bulldogs started the tournament on Friday but lost their game so they played early on Saturday. They won that game which set up the show-down at high noon against our rivals, St. Marys from Fredericksburg. We were just there the past Thursday and lost to them 13-16 in a regular season game.
I had taken my video camera on Friday but since I missed the 1st Saturday game, I took our DSLR with the new lens to shoot some pictures. I'm still getting used to this big 'ol honking lens. It's a 70-200m F2.8 lens to use in low light and freeze the action without using a flash.
I'm glad I did.
It was a tough, close game that went into overtime with two of our girls fouling out and there were several injuries as well. Our girls swarmed the loose balls under the basket and played through their injuries – not wanting to give up. At one point I literally "tasted blood in my mouth" – I had bit my tongue since I was so excited. With about 15 seconds left in overtime and the game tied, one of girls made the winning basket and the game was over. You can see it in the picture gallery down below.
I ended up taking a total of 745 shots! I whittled it down to 274 then from that I had to pick 45 to color correct and fix THEN pick only 15 to post to my blog.
The decisions were tough – just like our girls.
You can see the gallery below – just click on the images for a larger view.
After the game I could hear all the parent's loudly exhaling, exuberantly high-fiving the players but then finding their girl…and hugging them. I was just one of the many proud parents there.  This is why I decided to post some pictures here .
Thanks for letting me share,
Beto (Gilberto – proud Dad of Emma #21 – the one on her back, on the floor, passing to her team mate)