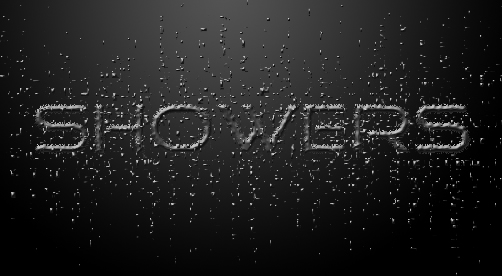 Wow – 18 months of drought in San Antonio TX and hopefully it ends today. Don't know if this will be a drought buster but we're expecting to have significant rain for about 4 days.
I don't know – those meteorologists can be wrong sometimes. I bet they make great poker players.
But this morning around 7am it started to rain at house. Our poor dog Max didn't know what to make of it so I let him into our screened back porch to stay out of the rain. Plus it's gonna be a bit colder than usual so he'll stay dry and a little warmer.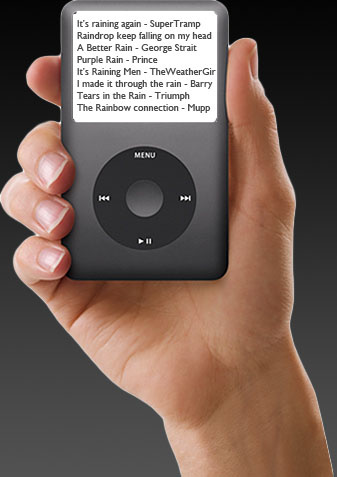 I was so inspired by the rain and in the spirit of my friends running page (John listed songs for running) I did a quick search for songs with the mention of "rain" in the title.
I began to play them and my cubby mates enjoyed them too.  
Then the rain stopped. So I quickly turned off my iPod hoping I hadn't jinxed the rain. It's Spring Break down here but I hope it does pour.
Below are the songs I hope to be listening to tomorrow:
Rain – Corrs
Rain drops keep falling on my head – B.J. Thomas
Raining on Sunday – Keith Urban
Raintown Boys – The Outfield
Rainy Day Woman #12 & 35 – Bob Dylan
1st Rain/Cry of Faith – Ottmar  Liebert
After The Rain- Ottmar Liebert
A Better Rain – George Strait
A Day Without Rain – Enya
A Walk in the Rain – Yanni (yes…it's on my iPod)
Blue Eyes Crying in the Rain – Willie Nelson (great song)
Can You Stop the Rain – Peabo Bryson
Chasin' That Neon Rainbow – Alan Jackson
Everytime That it Rains – Garth Brooks
Healing Rain – Chrysalis (new age)
Help Pour Out the Rain (Lacey's Song) – Buddy Jewell
I Made it Through the Rain – Barry Manilow (not ashamed to have his Greatest Hits)
The Rainbow Connection – Kenny Loggins and Kermit the Frog  (same song different singers)
In the Rain – Kenny G.
It's in the Rain – Enya
It's Raining Again – SuperTramp (classic!)
It's Raining Men – The Weather Girls (Disco nevers dies)
Kentucky Rain – Elvis (The King)
Over the Rainbow – Isreal Kamakawiwoz
Purple Rain – Prince
Red Rain – Peter Gabriel
Remember When it Rains – Josh Groban
Tears in the Rain – Vangelis from Blade Runner movie
Tears in Rain – Triumph
Yesterday I Heard the Rain – Tony Bennett (Always the classics)
Yesterdays Rain – Dave Koz
Thunderstruck – AC/DC – (had to put this one in)
How sad is that? Rain is making my blog! But we really need it.
Beto