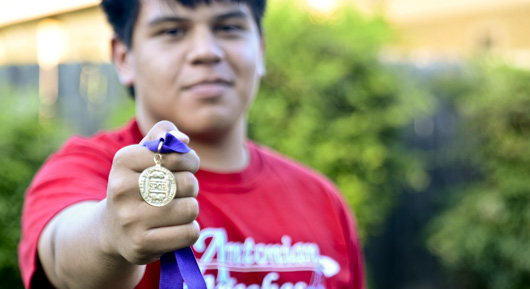 That's my son, with the gold medal he received for competing in a national Latin exam. The blog title reads, "My son got a medal in Latin" for you non-Latin speaking folks out there.
I'm very proud of my son Joaquin, besides being an all around good young man he is doing very well at school too.
He is finishing up his sophomore year at Antonian High School and was thinking of switching from Latin to Spanish.
This is his first year in Latin and although he really enjoys the mythology portion of Latin, it is very challenging for him. On our drives home from school he'd tell me about how difficult Latin could be or how he missed a couple of questions because he didn't use the correct "neutered" adjective or noun.
I already don't like the language.
So he wanted to give Spanish a try because he thought it could be beneficial for his job at Fiesta Texas. But when he submitted his course schedule for his Junior year, his Latin teacher asked him to reconsider since he was doing well in the course. Plus, they could use his support in the mythology portions of  Latin competitions.
His teacher also mentioned that he had earned a medal at the last competition too. Joaquin was very surprised and when he told Liz and I, we were very apologetic because we didn't know either!
During our dinner conversation, we told him how very proud we were of  his accomplishment. He humbly responded that a lot of kids got a medal but I went so far as to say, "Mea culpa"  for not knowing. To which Joaquin acknowledged with his signature toothy grin.
That is the extent of my knowledge of Latin, so I was glad he got my intent.
So, after much deliberation by him and true to his character (he tries hard never to quit something he's started) he will stick with Latin next year.
He brought his medal home and when I told him to come out so I could snap a picture, he knew what I was going to do and asked:
"Dad, are you gonna post this on your blog? Because some of my friends are following your blog and they give me 'bleep' about it."
I thought about it for a moment…
My intent is not to embarrass him
So what if other kids got a medal – HE'S MY KID.
And hell, I'm proud of him and not afraid to show it.
Sorry Papa, I hope you can forgive your 'ol man.
Beto