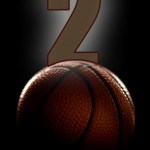 Both my kids had basketball games this weekend. And both made their first shots of the season! Is that weird or what?
Joaquin (my 13 year old) has been the back up center for his team and The Blessed Sacrament "B" Bulldog team was participating in a tournament all weekend long. They got third place and a couple of times, he played and attempted some shots. He even got fouled but missed the free throws. I could tell he was nervous.
On Sunday the 1st string center was not feeling well so they put in "Wack" as he's called. He was in there bumping and rebounding and got off some shots and missed – but was fouled. He stepped up to the line and made 1 of 2 free throws. It was great to see him make that first basket. I was so proud of him for making his shot and I told him so.  You can read another story I wrote about him in basketball here.
Emmy – my 8 year old has also been playing in a CYO Basketball league with her team and she also has not made a shot this season. Oddly enough – she also plays center…or position since they are only 8 and 9 year olds! She's come close numerous times but its always bounced in and out of the basket – until Sunday (same day as Joaquin). She pulled down a rebound, turned and then fired up a shot…and made it. Whoo hoo! She even got fouled a couple of times but missed the free throws. 
Two for the price of one! Isn't that funny? Both my kids made their first baskets – the same day, about 2 hours apart. 
I had to document this somewhere. 
Beto