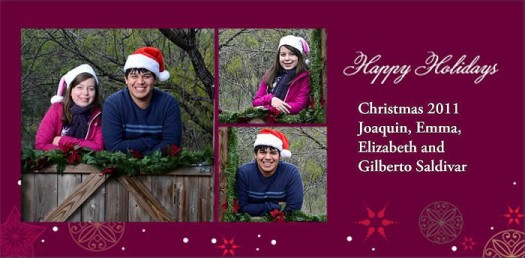 Took some snaps of my kiddos for the 2011 Christmas cards – did them fast!
This past weekend was pretty busy (broken record) and Liz came home on Saturday (after shopping) and said, "Why don't you pull out all the fancy camera equipment and take some pictures of our kids in the backyard so I can get some Christmas cards done?"
"But it's going to to be too late."
"Really? Christmas is just a week away…"
"But I'm right in the middle of working on my computer…"
Luckily…those were just thoughts that my brain expertly managed to trap behind my lips.
"Sure Honey…when?"
"Right now!" she responded and went to the backyard with some garland she had purchased and began to decorate the back fence. She then coaxed the kids to dress up and wear their Santa hats.
…yeah…coax is the word I would use…
I snapped some pics under a cloudy, overcast day and tried experimenting with a shoot through umbrella with mixed results. I've posted some below.
In an hour, we had downloaded the photos, culled them and I did some minor color corrects, then we jumped on Ritzpics.com, uploaded the photos and created a card – the one above.
On Sunday @6pm, we drove to Wolf Camera at the Quarry where Liz picked up the cards. By 10pm, she had them all addressed and stamped. She dropped them in the mail on Monday. We didn't even have one left so I had to log back into Ritzpics.com and screen snap the card!
"Lickedee Split!"
See some of the photos we used and didn't use below. Some have been corrected some have not. Even Mom and Dad got into the spirt with Emmy snapping a photo and Max got jealous so he got one pic too. You can click on the images for a larger view.
Merry Christmas everyone.
Beto