If you live anywhere near San Antonio, you know its Fiesta Week! Everyone is celebrating including my daughter's school — as I'm sure every school in San Antonio is doing as well. Her project is to build a float in a Fiesta week theme. Liz and Emmy have been hard at work all weekend long.
On Sunday as I'm working in my study (on some video editing), Emmy keeps coming in and borrowing some of my stuff to create her float. So I finally go over and see what they've done.
Very impressive — you can click on the pictures for a larger view.
It's a great float of the city with the Tower of Americas, the Alamo and the San Antonio River.
They haven't finished it but they sure did a lot over the weekend. The project is due on Wed Apr21st so they will continue to work on it. It sure does look great.
So as I'm praising my 10yr old daughter, I say, "Emmy, you know what's missing from the River? A River Barge."
"No Dad, we're not going to make one, it's too hard."
Insert Audio FX here (trumpets blaring) as I snap into the characteristic SuperHero pose...
"I can do it!" I bellow – as I stare up at the heavens, my cape flapping in the wind…
I ask Emmy if she has any red and yellow construction paper. She gets me two sheets and I start working. Below is what I came up with and the steps. You can click on the photos for a larger view.
Started out by just cutting up some red paper for the bottom portion. I was in my "origami zone" as I cut and used some scotch tape. Then I cut a smaller strip for the yellow rails. I then cut and shape paper for where guide/driver would stand. I finish it off with red benches down the middle.
I need a steering wheel so went and raided one of my son's LEGO pieces from a dusty bin he had in his closet. He was as surprised as me that I found it so quickly. FINALLY – those darn LEGOs came to good use.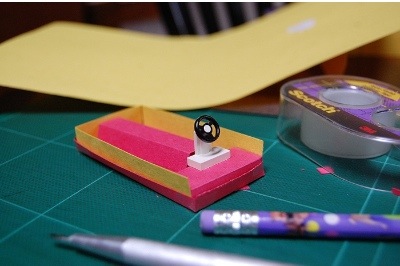 I put it on my iPhone so you see the scale.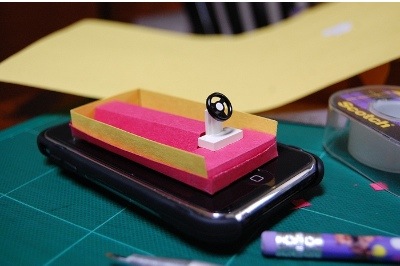 After looking at the completed River Barge, I decided it needed the holes on the yellow construction paper so they looked like the rails on the barge. I was going to cut them out in little squares using an Xacto knife but then I asked Emmy if she had a hole punch. That worked great. I reassembled the barge and placed it on her float.
We are pleased with the small accent to her float and I told Emmy she will need to glue it all together. I just cut out and "dry fit" the pieces. Can't do everything for her grade right? My daughter has volunteered me for other projects before but this time, I just wanted to help.
She still has to put all these flowers she's making on the float so when she finishes it, I'll post the pictures here.
Thanks for letting me share.
Beto