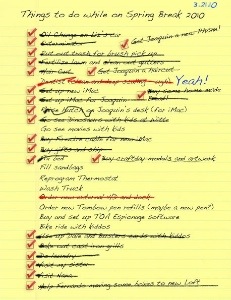 It was an ambitious list and sadly, I didn't get to finish all of it while on Spring Break.
I started out with the best of intentions and I did do a lot with my kids from the list, but other things just kept popping up.
Like my new iMac showing up a weekend early.
I didn't even start working on it until Tues. afternoon. It just sat there…for five days! I admit, I did pass my hand over the box a couple of times. But then I'd pinch myself and walk away.
Then there was stuff like moving a sofa, getting a gift ready and shipping it. Baseball and softball practices. We missed out on bike riding, filling my sandbags (for video tripods and lights), washing my truck (the rain took care of that) and not see movies with the kids.
But they did get me to watch Twilight New Moon when my wife had a "girls night out" Saturday. My little girl made some awesome home made ravioli. She only 10!
Overall I'm happy with the time I got to spend with my kids. We had fun.
So, now I just need to get back into the right frame of mind and back into "work mode." It was rough today but I managed. Tomorrow will get better.
Now I need to start planning for Summer Vacation!
Beto