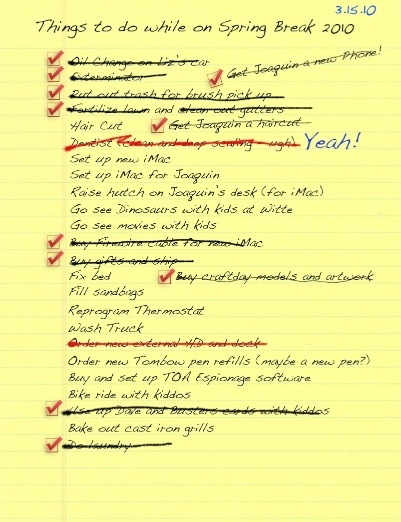 Had a productive day today. Early in the morning, I got a pleasant surprise.
Apparently my dental hygienist was sick today so that meant they couldn't do my cleaning and deep scaling. I calmly stated I would reschedule it when I get back to the office next week.
WhooHoo!
Now that is one great way to scratch something off my list!
We did get to do the laundry, clean up the kitchen from last nights dinner and run to Dave and Busters to use up some cards for the kiddos. They had a great time playing video games.
My Emmy racked up an impressive 694 tickets from the games so she redeemed them for some cool items at D&B.
I realized it was going to rain this week so on the way home we detoured to Hobby Lobby to buy some "rainy day" creative projects. Joaquin got a 2006 Camero model kit. I have a 68 Firebird model I purchased a while back and we can both build it when we're trapped at home when its raining. Of course my little girl wanted some modeling clay and some "sketch by the numbers" project so she can have something to do as well. We hope it doesn't rain but just in case.
The biggest news was we got Joaquin a new phone today.
He's been asking and I told him to wait but when I stopped off at Office Depot to get something to clean off my keyboard…more on that later. While we were there, Joaquin spotted a Radio Shack and he asked if we could look into a new phone for him. Twenty minutes later, I walked out of THE SHACK with a giddy 14yr old teenager sporting a toothy smile. My 10yr daughter was at my side, bummed that her repeated requests to get a phone went unanswered.
So I've update my list with the new items and promptly checked/scratched them off. Heck I even had dinner cooking when Liz showed up after work. That allowed us to eat and then she took Joaquin to get his haircut. Another item we added to the list. He and Emmy have baseball practice this week too.
Tomorrow we hope to make it to the Witte Dinosaur exhibit after we get some breakfast. That should be fun.
More tomorrow,
Beto