"Shaken…not stirred."
Last night Elizabeth and I went for our "date night" and saw Skyfall at the Alamo Drafthouse.
What a great movie.
So in my tradition of my movie reviews, I found one of the only pictures of me in a tuxedo – my wedding day picture and created a movie poster.
I had to get rid of the boutonniere, cut me out of the background and clean it up, really fast. And because I liked the movie – I kept the smirk on my face. Of course now everyone is gonna freak out because I don't have my goatee. Leave your comments below.
I sure did love the movie. I think Daniel Craig is fantastic as Bond, James Bond. He just looks like everything he does…is planned. The movie plot was pretty good and of course I loved the intro song by Adele.
I reccomend everyong go see it and go see it at the Alamo Drafthouse. A half hour before the previews, they had numerous clips from old spy movies and even had one of my all time favorites, Lynda Carter as WonderWoman fighting another woman.
Pause..to collect myself.
Then they showed a cartoon I never ever remember…James Bond Jr. Pretty cool.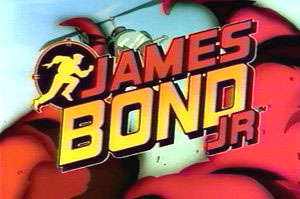 Plus they had some "Bond" commercial that were excellent.
James Bond Bad Guy ODD JOB in Vick's 44 commercial:
I sure would love to have that job – finding all those clips.
So go out and see Skyfall – it is well worth it.
Beto
PS – below is the movie poster I tried to replicate early Saturday morning.