Spent my evening editing the first rough cut of the video to the music my wife picked out. Great song from Casting Crowns – Who am I.
I'm putting together a video presentation for the Blessed Sacrament Catholic School Gala on Feb 4th and I'm lucky to have my partners in crime, Fernando and Mike and of course, Liz helping me out.
I took the day off this past Friday and Fernando and MIke helped me shoot video and digital photos around the school and church. I got there early to film the "car line" where parents drop off their kids and it was rough shooting in 30 degree weather, but I warmed up.
We're trying to show how the church impacts the school that my kids have/are attending. Joaquin has moved onto High School but my Emmy is still there.
Here are some of my snaps of video – click on the pics for a large shot.
Below are some photos that Mike took and they are awesome – just need to figure out where to put then in our video.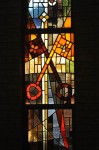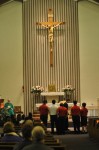 And Fernando – well, he knows how to get that shot.
We also showed up on Saturday to try and get some nice time-lapse video but the weather was just not cooperating but we did get to use my new Christmas present.
But we have to wrap it around a song and my wife picked a nice one. You can hear it in the YouTube video below.
Since it's copyrighted – we'll create two videos – one for the Gala that will be presented to a closed audience, then we'll use the footage we have to produce (hopefully) a great recruitment video for the school.
But we'll have more time for that.You know..since my kid is/was there and Liz is an Alumni.
Now to get it done by Feb 4th for the Gala, that I will be attending…to make sure nothing goes wrong. Plus I'm still shooting and editing for the end of year Sports Banquet.
More pressure.
But maybe this will get me into Heaven? If not, then I guess I'll be with my friends. LOL.
Beto.