This was one of the first weekends in a long time that our family did not have to do much in the way of sports. So thanks to the missionsunknown website – my son and I decided to hit the local comic book convention event at the Live Oak center. I don't collect comic books anymore but I thought it would be a fun outing.
He'd never been to a comic convention and I thought it was going to be a small turn out – boy was I wrong. There were tons of folks there and the event took up the entire convention floor.
I had forgotten how popular these events were and after we paid our fee and were stamped, the next two hours were spent walking up and down each aisle checking out what people were selling. Plus there were some local artists there too and they were showing their work in the comics industry.
As with most comic conventions, the normal comic dealers were there and then there were the folks who (like me) have tons of stuff they wanted to sell to make room in their garages or storage centers. Some tables looked like these folks were doing a garage sale, with toys and magazines strewn all over the place.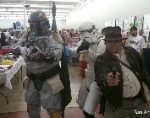 I was surprised to see a couple of people in costume and they were good sports to pose for me. I had my iPhone with me and the quality wasn't too great so I spent some time in Photoshop to brighten and sharpen them to post here.
But as they say, "The best camera is the one you have with you." You can click on any of the pictures to see a larger view. I've also posted a gallery below since there were just so much stuff to see there.
You can find some really cool buys at these types of  conventions. I saw a lot of vintage toys but vintage means "expensive." Walking down each aisle was like going down memory lane as I smiled and remembered the toys I played with as a kid.
At one booth I made it a point to show my son the "old" skateboard I owned…you know…1/2 thick wooden board with METAL wheels. Remember how your feet tingled after riding it on the asphalt street?
"See Joaquin, THIS is what I used to skateboard on when I was a kid."
He looked at me, rolled his eyes, snickered and said, "Okay Dad." I'm kicking myself that I didn't snap a picture of that skateboard.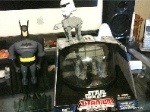 The prices for some of the stuff was all over the place. I did see some Batman stuff and got a cool Batman figure for $5. Joaquin was looking at the HALO action figures so gave him some money while I perused the Star Wars toys. I found (and bought) some ATAT walkers.
All in all I came out of there only spending $22. Not bad. But most importantly I got to spend some quality time with my boy, giving him a glimpse of what it like for me growing up.
Thanks for letting me share – gallery below.
Beto