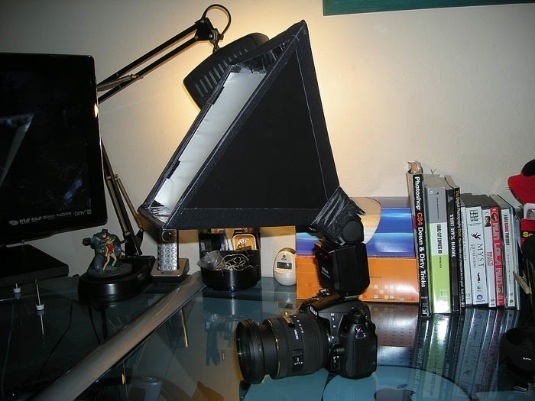 1st of three DIY projects complete.
I finished the 1st of my Photography DIY projects tonight. I had hoped to do more but I since tomorrow's Easter and we're having Familia over, I needed to help around the house.
So I didn't get started until 6:30pm on the first project. A small soft box for my Nikon SB600 off camera flash unit. I wanted something to diffuse the light better and not have such harsh lighting. I didn't want to have to bust out my strobe kit or DIY lightbox just for some quick shots.
I had seen this build online from a great site Larry's Cheap Shots – great place to visit and get great tips on building some DIY stuff — especially for photography. So, I bought my supplies and got to building.
Now you're probably thinking, "How on earth can you shoot with that thing on your camera?!"
Well, technically I can mount it to a tripod and use some remote flash triggers my wife got me for my birthday and just fire the flash remotely from my camera. You place the remote trigger on the Nikon SB600 Speedlight and trigger it from the camera with the adapter.
But for this quick demo (I do these quite a bit hence the build) I just shot with it on top of the camera and used three different modes.
Just the bare flash
Adding a small frosted cap diffuser
Using the small Softbox on the flash
I didn't do any color correcting so you can "maybe" see the differences? The soft box really opens up the shadows (look at the wings of the plane). You can click on the images for a larger view. Next time I should use a tripod to shoot this stuff – sorry.
I also took some pictures of the build itself. Took me about an hour and it was fun to do. But I will say this, I think I spent more time running around town, getting suppliers and finding what I needed and I probably could've ordered something similar online…which I did. I'll follow up with a post later on that. You can see the build pics below and click on them for a larger view. Surprising what is used to build it.
Anyways, I still have to test these light modifiers (oh yes, I'm making another different kind) on people to see how they work. Again, I'll post as I go along.
Beto